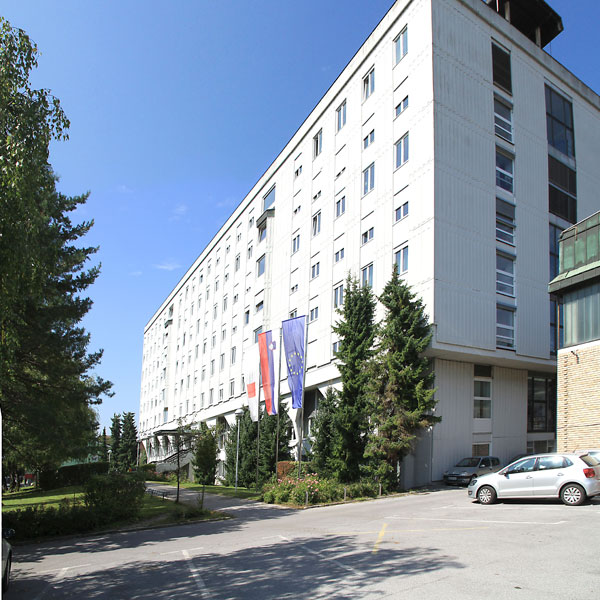 How are the lecture rooms marked and where are they?
The lecture rooms in the main building at Jamova 2 are marked with a Roman number that represents the floor (I, II, III, VI), and an Arab number representing the number of the room on the same floor (1, 3, 3, 4). The UL FGG building is divided in two parts: above the main entry (facing Jamova Street) there are the teachers' cabinets, on the opposite site (facing Tržaška Street) there are the lecture rooms.
Opening hours of the faculty
The faculty is open daily, from Monday to Friday, from 7:00 to 21:00 in the evening. On Saturday's and Sunday's the faculty is closed and only accessible to employees (to enter or exit you need a key).
Can I use the library?
Absolutely! The library is available at two locations – on the ground floor of the main building and at Hajdrihova 28. More about the library is available here: https://www.fgg.uni-lj.si/organizacijske-enote/knjiznica/
When are the office hours of the International Office?
The International Office is open Monday to Friday from 8:00 to 14:00. The office is on the ground floor, to the right side from the main entrance (P-3).
May I use the elevators?
Yes! The elevators on the side of the building where the lecture rooms are located (the side facing Tržaška street) are intended to students. The elevators on the other side (facing Jamova Street) are intended to professors.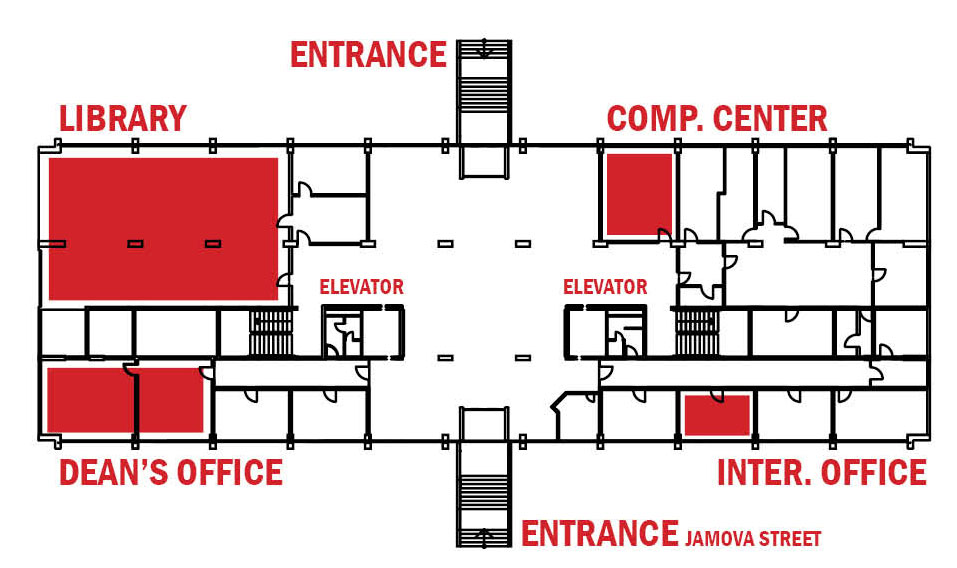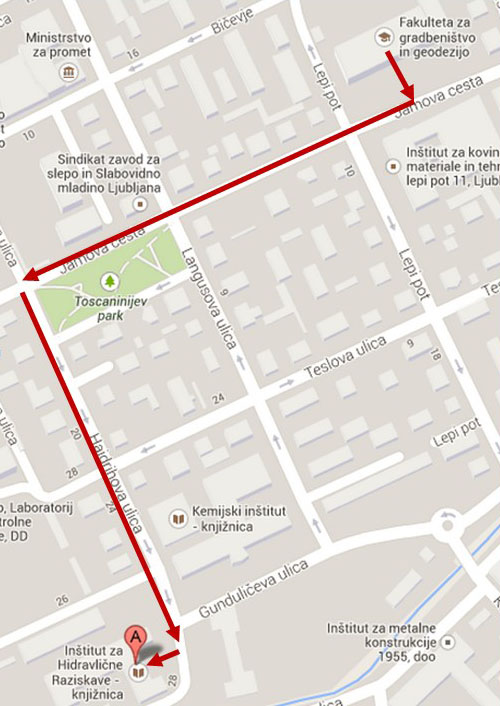 Which lecture room is H-10?
The letter H means the building located at Hajdrihova 28. To get there, start from the main FGG building and go south along Jamova Street, then turn left after the park (see the map below). It will take you about 10 minutes.
May I use computers in the computer rooms?
Absolutely. On the door of each computer, room there is a timetable with classes held in the room. When it is free, you can use the computers for your work. If you have your own PC with you, you can also use the desks at the corridors in front of the lecture rooms and the desks in the corner by the vending machines on the first floor in Jamova 2.
Important events will take place in the Festive Hall in the second floor. You can recognise it by the upholstered doors.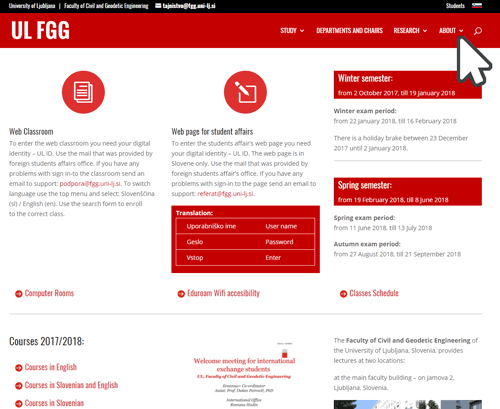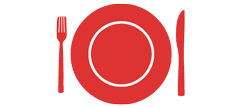 , basemWhere can I have lunch?
Menus of some restaurants nearby, updated daily, are available here (in Slovene only): https://www.fgg.uni-lj.si/studenti/prehrana/
The closest restaurants are:
Mirje – Italian restaurant (by the bus stop at Tobačna)
Marjetica – cafeteria – canteen (beside old Tobačna building)
Okrepčevalnica Vida – cafeteria – canteen (in the old Tobačna building, basement)
Okrepčevalnica Vič – diner (by the Circus Discotheque)
For more information about the surcharge for meals, locations of restaurants, daily menus go to: http://www.studentska-prehrana.si