Katja Arh, Dean Patrone and Jaka Cerar, students of the academic study programme Civil Engineering, took part at the international competition »HOW STRONG IS THE BRIDGE?!«, taking place between May 6 and 8 at the Faculty of Civil Engineering, Traffic Engineering and Architecture of the University of Maribor. The participating teams of students came from Slovenia, Croatia, Serbia and Romania. Their task was to build a spaghetti bridge, which was then assessed based on its load-carrying capacity as well as design. At the same time, some other specific rules had to be observed. The bridge designed by the team of our students won excellent fourth place for the load-carrying capacity of 105.86 kg and third place for its design. Hearty congratulations!
Students commented their excellent result with the words that they succeeded based on the knowledge they acquired from courses taught at our faculty. »We could never have made it without the help of our teachers, who assisted us in the design of the bridge and its joints. We wish to thank especially Assist. Prof. Dr. Primož Može and Assist. Prof. Dr. Jože Lopatič, who helped us with their knowledge, as well as Mr. Franci Čepon, dipl. inž. grad., who helped us in the laboratory during the tests of the »spaghetti« joints and during the bridge testing. Many thanks also to all others who contributed to our success, among others to UL FGG Student Council that financed our registration fee,« they added.
This was undoubtedly a very interesting and learning experience that they would wish to repeat. They encourage other students of UL FGG to take part at the competition next year, because it offers a lot of new knowledge, is an opportunity to meet new people and gain new experiences. All this is certainly a good springboard for one's career development.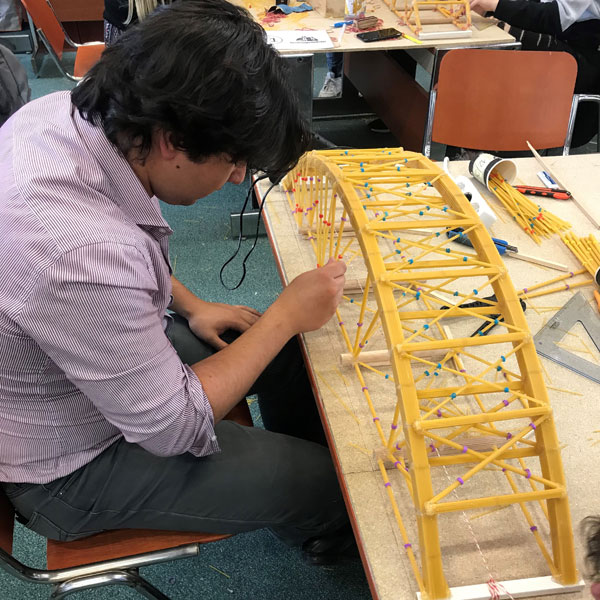 In the process of bridge construction.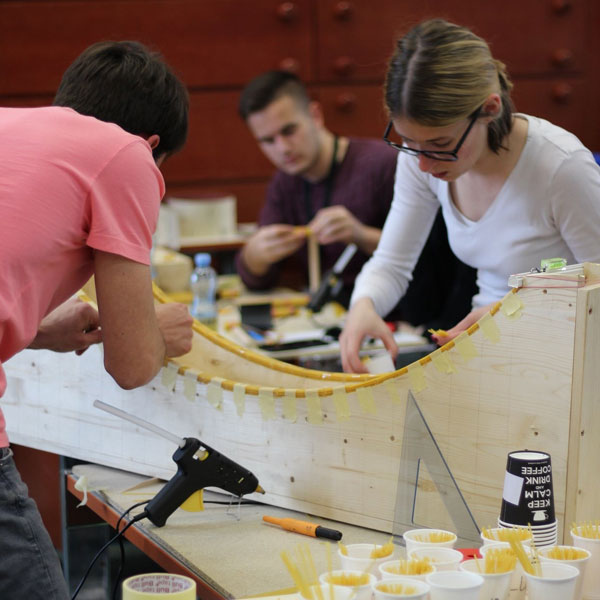 Precision in work is extremely important.